As research for one of my manuscripts, I've been reading a lot of SEL (Social Emotional Learning) picture books. So far, some of my favorites include Allie All Along by Sarah Lynne Reul and Adrian Simcox Does NOT Have a Horse by Marcy Campbell; illustrated by Corinna Luyken. But when I came across Finding Kindness, I knew it would be a perfect book for Valentine's Day. Finding Kindness is written by Deborah Underwood (quite the prolific writer) and illustrated by Irene Chan. You can visit their websites by clicking on their names.
I love Finding Kindness because it makes an abstract concept (kindness) accessible to children. As parents and teachers, we always tell our children and students to be kind, but what does that mean to a four-, five-, or six-year-old? Underwood's words and Chan's illustrations show us tangible ways to be kind. There can be a lot of conversation built around this rhyming text and the accompanying illustrations.
And the part that I love the most? The chain reactions of kindness within a community. Go back and look at the illustrations to see how one act of kindness leads to another or is witnessed by different people in the community. For example, check out the boy whose family adopts a dog, and in turn, is invited to play baseball. He appears on three spreads. We see that kindness carries on from one person to the next.
In Finding Kindness, all readers can enjoy seeing how simple kindnesses can spread and affect a whole community.
Essential Questions
What is kindness?
How can I be kind?
How does kindness affect others?
Standards
CCSS RL.K.1: With prompting and support, ask and answer questions about key details in a text.
CCSS.RL.K.4: Ask and answer questions about unknown words in a text.
CCSS.RL.K.7: With prompting and support, describe the relationship between illustrations and the story in which they appear.
CCSS.RL.K.10: Actively engage in group reading activities with purpose and understanding.
CCSS.W.K.3: Use a combination of drawing, dictating, and writing to narrate a single event or several loosely linked events, tell about the events in the order in which they occurred, and provide a reaction to what happened.
WIDA ELD-2: English language learners communicate information, ideas, and concepts necessary for academic success in the content area of language arts.
Vocabulary
scritch
boost
pail
lumber
forgiving
Companion Activity Suggestion
Teach cause and effect by finding examples of how one act of kindness affects another or by finding the reasons for kindness in the book. Use sentence frames to help students speak in complete sentences.
Your sentence frame might be:
______ because ______
If you ask the question, "Why did the little girl get a scoop of ice cream?" students can use the sentence frame to answer: "The little girl got ice cream because she fell down." Here, the cause would be her fall and the effect would be her getting a scoop of ice cream.
Continue finding examples from the text and illustrations. You can even go a step further and make paper chains. Write down an act of kindness on a strip of paper and make it into a circle. Write down the next act of kindness that happens because of the one you just wrote. Loop it through the first circle and then glue it.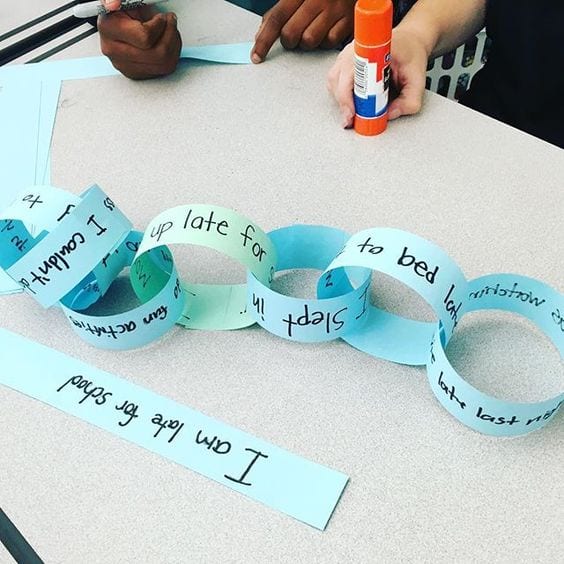 Here is your FREE worksheet for Finding Kindness!
Like this post?